Beaujolais Nouveau 2022
When is Beaujolais Nouveau Day?


Thursday November 17th is Beaujolais Nouveau Day, a time to celebrate new French wines, fresh from the harvest. This famous day in a wine lovers calendar is celebrated every year on the third Thursday of November and is a young wine made from Gamay grapes. Notoriously juicy stuff.
Beaujolais Nouveau Events In London
There are so many Beaujolais Nouveau releases without much explanation or celebration, so to fix that, every year at Top Cuvée we pay our respects to the harvest that was and the annual release of some special wines by celebrating Beaujolais Nouveau in all its glory (and no, not in a mass onsen kinda way) – but with a food and wine tasting!
This year, our Finsbury Park restaurant will be serving up a 3-course matched food + wine dinner that showcases the best Gamays of the region along side some hearty French specials. Book your spot here!
Similarly, the team over at our sister wine bar, Cave Cuvée in Bethnal Green, will be offering one of their signature wine tastings, delving deeper into the fun and juicy world of Beaujolais Nouveau, an evening to taste and learn in an unpretentious way. Book your spot here!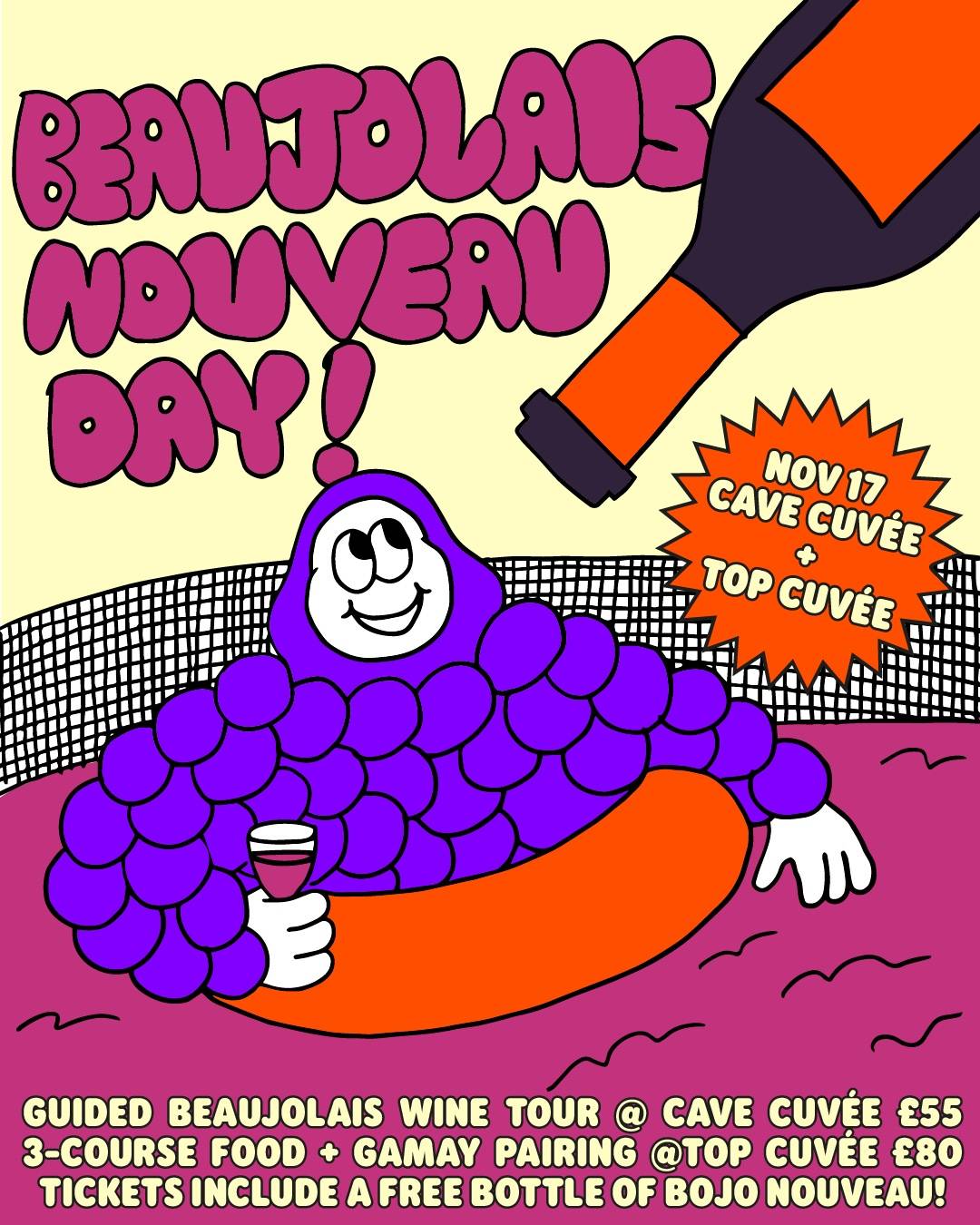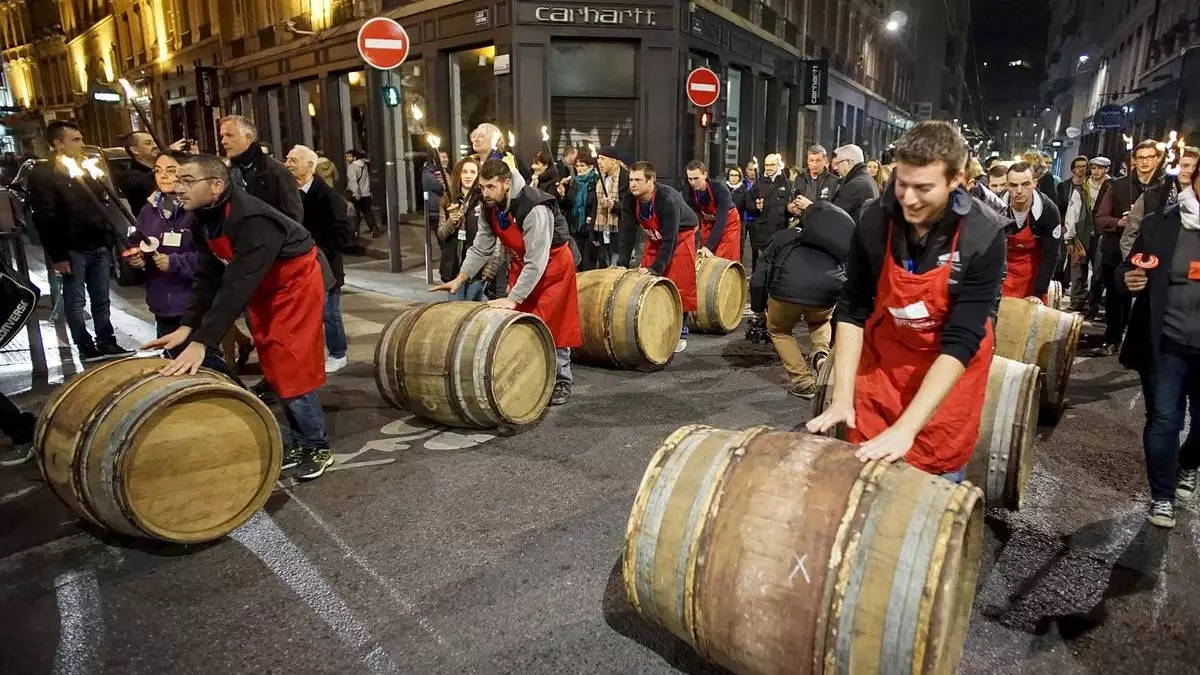 What is Beaujolais Nouveau?
Unlike other French wine, Beaujolais Nouveau is drunk immediately after harvesting (barrels are rolled through the streets to shops), and has a cheerful reputation (due to its affordability) and doesn't take itself too seriously.
It is generally served chilled (to bring out the fresh flavours) and is often sold with flamboyant packaging on its labels. Real fast and cheery celebratory wine. Unlike the Champagne houses or producers in Burgundy and Bordeaux, Beaujolais produced in the Beaujolais region (34 miles north of Lyon) is grown and harvested by around 400 small farmers, often working in collectives.
At its peak in the 1980s, U.K. shops sold 760,000 bottles per year and more importantly, helped put this tiny region on the map – permanently.

Part of the allure of this revered day is that under strict French wine law, this is the only wine able to be sold in the same year in which it was harvested. Such wines are called vin de primeur, and tend towards grapes like the Gamay, capable of very short fermentation (3-6 days) while giving a rich fruity flavour sweetened by residual sugar.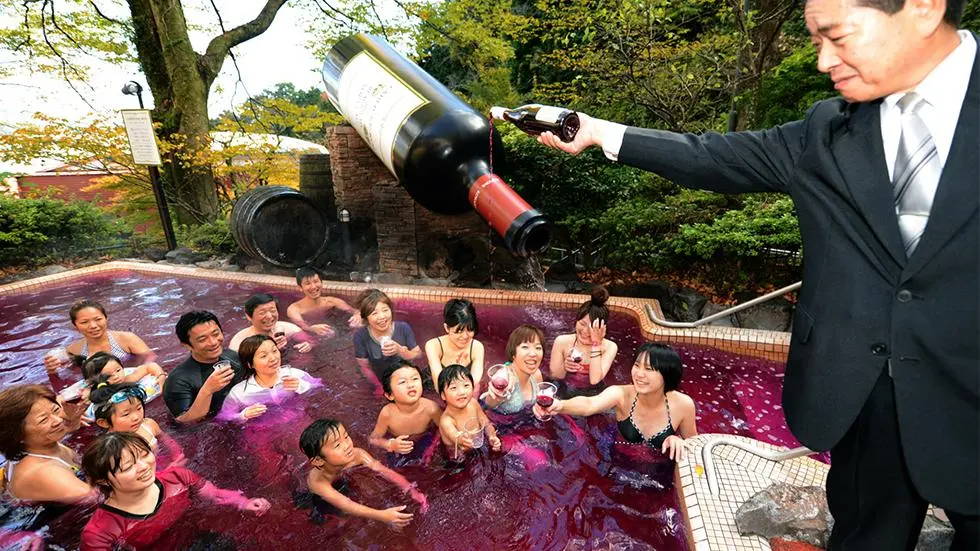 When Can I Drink Beaujolais Nouveau?
Exactly on the stroke of midnight, Beaujolais residents open the barrels of the new wine and declare Le Beaujolais Nouveau est arrivé! This also coincides with the timing of the release of all Beaujolais Nouveau wines available for sale across the globe because under French law, they cannot be released any sooner than this date!
After a societal slump during the 20th century, Beaujolais Nouveau wine has undergone a sexy resurgence and is back in a big way – drawing attention and adoration from an unlikely source – Japan. So much so that the country has gained cult status for their outlandish and over the top celebration of Beaujolais Nouveau Day – most notably holding mass onsen wine events where they trade the once volcanic mineral water with thousands of litres of Gamay and bathe in its glory. Nope. We're not making this up.
Some believe that they have taken such a voluminous liking to the idea because it coincides which the changing of seasons, a tradition held in high esteem in Japanese folklore. Others believe it's inherent to their nature to celebrate things in lavish ways and others things it's simply because they love a spa and just love having a good time. Either way, they are dedicated disciples to the variety (and the occasion) and the country is the number one export market for Beaujolais Nouveau. In 2019, around five million bottles were exported to Japan, which is roughly 50% of the total exported volume. Kanpai!