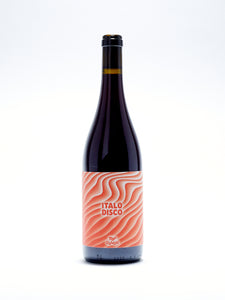 Tuscany, IT
Type, Red
Grapes, Merlot, Sangiovese, Mammolo, Alicante, Canaiolo, Syrah, Cabernet Sauvignon, Ciliegiolo
Alc.  12.5%
Year,  2022
Size,  750ml
Serving: chilled (12–14°C)
About: Top Cuvées very own big boy blend of a Tuscan Vino Rosso, which we meticulously selected from many a juice out in the Pian Dell'Oca vineyard in Cortona. Aptly named with a nod to our venues' highly indulged musical genre, Italo Disco is a soirée in a bottle. Juice perfect for the shindig, the picnic, the park hang, the dinner date, and so on... 
The indigenous grape varieties are harvested from young vines with an average age of 5 years. The Merlot, Sangiovese, Syrah & Cab Sauv has come from vines 20-30 years of age. 
Juicy, fun & fresh. Live la dolce vita with Italo Disco!