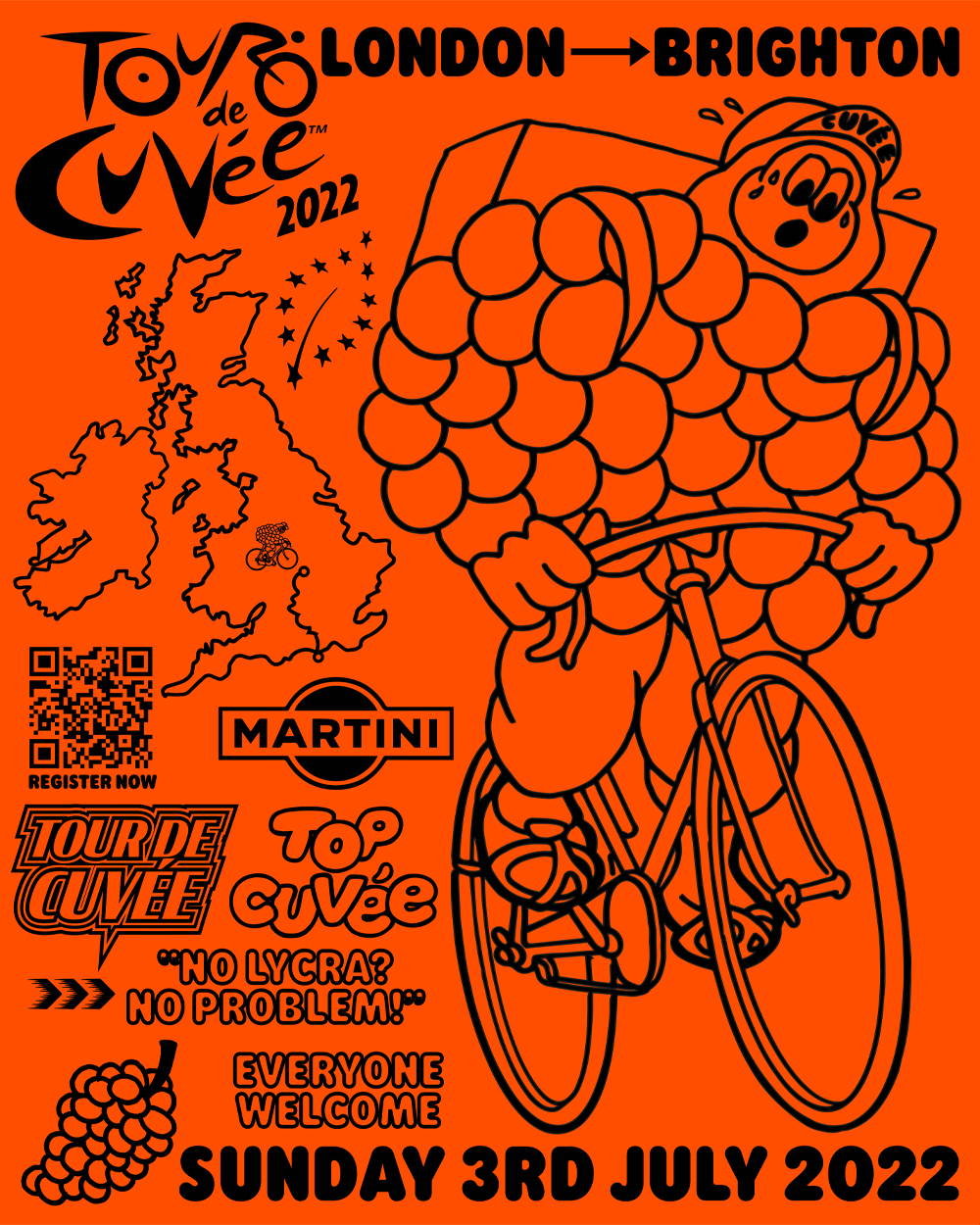 Roll up on Sunday July 3rd for the Tour De Cuvée (the UK's answer to the Grand Tour) for an epic 100km bike ride from our Bethnal Green store to Natural Wine loving, seaside haven Brighton.
Head on in to Cave Cuvée between 7am – 9am to have your morning coffee on us, collect your commemorative Brevet card with some TDC tasks to complete along the way, with the first 50 riders in store to receive a merch pack to help them look extra swaggy (so don't sleep in).
Riders will set off at their own pace towards the coast, with an option to turn back at Clapham Common for those who don't fancy the full day out. On the road, riders will be encouraged to go at their own pace, form groups or ride solo if they prefer.
No lycra? No worries! Wear what makes you comfy – this is an inclusive ride and the pace will be chilled with plenty of time to update your social media feed as the route is mostly flat, soaking up the beautiful winding lanes connecting Surrey through Sussex. The only challenge will come at the end with the iconic Ditchling Beacon climb (featured in the "top 100 hills in the UK") and once riders tackle this, it's a downhill celebratory cruise all the way to the sea where free beer and pizza will be awaiting all participants at our finish line aka the legendary Unbarred taproom.
All brevet cards will be collected and entered into a draw for one lucky winner to win a brand new bike from Temple Cycles! Mad! After some much needed food and a photo-op, riders will arrange their own transport back to London, with regular trains running direct to London Bridge, and the option to ride back for those who want to push themselves.
During the ride, each rider is considered to be on a private excursion and must obey all traffic regulations and be completely self-sufficient.