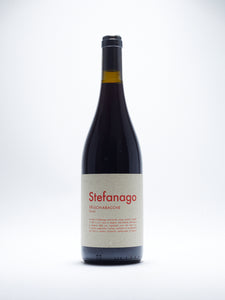 Lombardy, IT
Type, Red
Grapes, Croatina, Barbera, Uva Rara, Merlot
Alc. 13.5%
Year, 2021
Size, 750ml
Serving: chilled (12–14°C)
About: Organic cultivation, manual harvest starting selecting grapes from the first days of October, in the order of maturation: first the Merlot, then the Uva Rara then the Croatina. De-stemming and contact with the skins for a few days. Each must is added to the previous one and together they ferment. Maturation and aging in steel tanks, racking and bottling in spring.
The Castello di Stefanago is a family-owned winery, built through years of hard work over several generations. The people, their commitment and passion, the connection to the land and respect for nature, the constant search to improve in the tradition, these are the elements that tell the story of the winery.
The winery is located in Lombardy, in the Oltrepo Pavese hills, between 350 and 500 meters above sea level. The wine cellars are housed in a XI-XIV century castle surrounded by verdant farm lands.  Grapes are sourced from 20 hectares of individual vineyards, spread throughout 135 total hectares of meadows, forests, orchards, and arable farmland. This small-plot approach maintains the biodiversity of the environment, and optimizes the quality of the harvest by planting only on land with the most ideal conditions for grape cultivation.
The grapes are the most fundamental and irreplaceable ingredient for the wine production. Antonio and Giacomo Baruffaldi have been committed to 100% organic cultivation since 1998. They work in the vineyards year-round to cultivate healthy natural grapes which are harvested at the precise level of ripeness.