💝 Top Cuvée Gift Guide 2023 💝
Top Cuvée - House Vermouth
A perfect blend of flavour and innovation maintains the freshness and vibrancy found in Natural Wines.
The world's best drink!
Try it today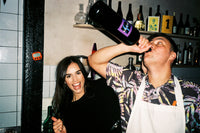 Shop Cuvée
Most people find wine intimidating. We've built a welcoming community making great wine accessible to everyone so you can focus on having a good time with your friends.
About Us