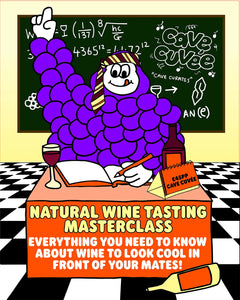 The perfect gift for the wine lover in your life. 
A ticket to our legendary masterclass! Just purchase, forward the confirmation email to the lucky recipient and they can book a date that suits them!
Click Here to see upcoming dates  
The Top Cuvée Natural Wine Masterclass offers you an unpretentious introduction to the world of Natural Wine.
Exploring the unique flavours of some of the key grapes varieties, regions and techniques that make them taste so damn good.
Our friendly  team have a knack for making beginners feel like experts.
You'll leave with the knowledge you need to feel confident when someone hands you a wine list!