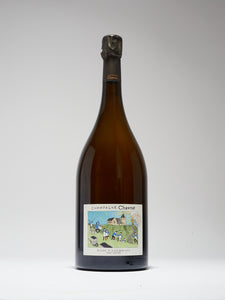 Champagne, FR
Type, Sparkling
Grapes, Chardonnay, Pinot Meunier, Pinot Noir
Alc.  12%
Year,  2017
Size,  1.5L
Serving: Cold (6–11°C)
About: Natural Champagne! 
Fermentation is done in 100 % stainless steel vats. No use of added sulphites, settling is done without enzymes, no tanin nor coal, no chaptalisation. Spontaneous alcoholic fermentation with indigenous yeast and spontaneous malolactic fermentation indigenous bacteria. Once ready, wines are not finned before bottling, no acidification nor deacidification! 
0g/L of added sugar at disgorgement stage.
47% Chardonnay, 47%Pinot Meunier and 6% Pinot Noir, all of it comes from Cuvée (first press)
Pleasant and powerful on red fruits aromas & candy, then lactic and buttery notes.
Vinous with a strong structure, suppleness and a perfect balance.