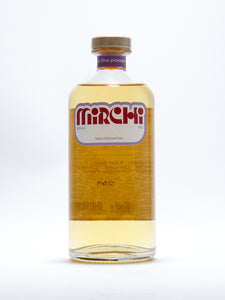 Arslaan & Harry created Mirchi, a modern flavour company inspired by their West African and South Asian roots. Growing up in Ghanaian and Pakistani households, spice was always a must and flavour meant the world to them.
Their impeccable Spiced Rum bottles the sweet aroma of Accra, the beauty of Lahore & the energy of late night motives in London. 
It's a balanced blend of African and Caribbean rums, infused with seven sparky spices, and rested in ex-bourbon casks for a vanilla finish and golden glow.
700ml | 40% vol
All natural. Vegan. Gluten free.