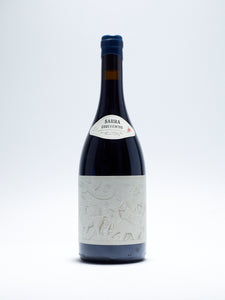 Murcia, ES
Type, Red
Grapes, Grenache, Monastrell
Alc.  14.5%
Year,  2020
Size,  750ml 
Serving: room temp (15–17°C)
About:  Bodegas Saura is based in Caravaca de la Cruz, one of eight different municipalities that make up the Bullas DOP, located in the region of Murcia. In 2008 the Saura family acquired an agro-forestry farm in the Sierra de las Cabras mountains.The family's main aim was to recover the neglected vineyards around the town of Caravaca de la Cruz, where they embarked on environmentally responsible traditional and ecological management, 100% organic and natural cultivation.
The winery's coat of arms features the heraldic symbol of the Saura surname, showing a dragon holding grapes emerging from a cave. It is inspired by the numerous caves found on the estate, including La Cueva Negra – an archaeological and anthropological site of great value.
Cogevientos is a blend of 60% Grenache and 40% Monastrell. Cherry red with a violet rim, very clean. The red and black fruits stand out on a very attractive smoky and spicy background. Fresh and fluid on the palate in a set that invites you to drink with flavors of Mediterranean fruit, balsamic and aromatic herbs.