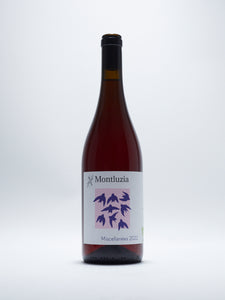 Languedoc, FR
Type, Rosé
Grapes, Lledoner Pelut, Carignan Blanc, Carignan Noir
Alc. 13.5%
Year, 2022
Size, 750ml
Serving: cold (6–11°C)
About:  Super bright and crunchy rosé, drinks like a light chilled red. Tastes really good in a Top Cuvee wine glass, available from our website!
Domaine d'Adrien began back in 2016 when Adrien, a young Belgian, settled in the South of France before being engrossed in the wine making process. In 2020, Adrien joined forces with Saskia after she came over for the harvest and never left. The pair now operate a 24ha estate and have changed the wineries name to Domaine Montluzia, meaning Mount Light in Occitan- the historic language of Languedoc. 
Direct vertical pressing with fermentation from indigenous yeasts. Fermentation for 14 days before being transferred to age in stainless steel tanks for 5 months. Less than 30 mg/l total SO2.