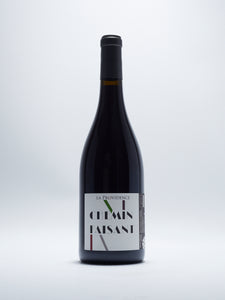 Provence, FR
Type, Red
Grapes, Cinsault, Syrah
Alc. 12.5%
Year, 2022
Size, 750ml
Serving: chilled (12–14°C)
About: This delicious red hails from the Provence region in France. A smooth blend of Syrah and Cinsault combine to create a light, fresh red with bold fruit flavors from both grapes. The syrah goes through pre-fermentation whole bunch maceration for 15 days before being aged in eggs and barrels for 6 months, and the cinsault is de-stemmed and fermented separately in concrete eggs for 6 months. Easy drinking, fresh and fruity with great acidity - absolute banger!
After 15 years of experience in different professional fields, Jean Benoit and Bénédicte acquired an 18-hectare vineyard in AOP Coteaux d'Aix en Provence in 2017. Organic certification was obtained in 2020. He restructured the estate by planting 11 varieties of white grape varieties! The black grape vines have an average age of 35 years and some are over 55 years old.
The vineyard is distinguished by an unusual trellising system, natural grass cover on every other row and green manure sowing. The soil is only worked at the foot of the vineyard to limit compaction.
First vintage in 2020 at the estate following the construction of a cellar. The grapes are harvested by hand in crates, the vinification is carried out in whole bunches by gravity, the reds undergo a cold pre-fermentation of more than 7 days without crushing or pigeage, the fermentation is carried out with indigenous yeasts without any input. The use of sulphites is only carried out at the end of the malolactic fermentation or at bottling. All the wines, including the whites and rosés, are aged in eggs or 500L barrels for 6 months.