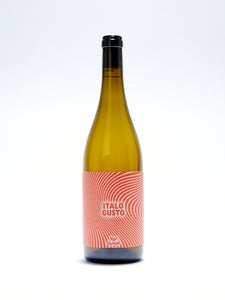 Tuscany, IT
Type, White
Grapes, Chardonnay
Alc.  12%
Year,  2022
Size,  750ml
Serving: cold (6–11°C)
About: Our very own & very fine Vino Bianco, showcasing Tuscany's primo Chardonnay in its elegant glory.
The juice spent 5 days on skins before being transferred to an old 300L barrel where it was left non-ouillé in order to develop Flor - oxidative aging under a yeast cap (this means the barrel was not fully filled to allow the yeast cap to develop and was not topped up with new wine to counteract natural evaporation during aging).
Being made in such a way, Italo Gusto gives Jura Chardonnays a serious run for their money, and we could not be more proud to have this exemplary cuvée in our lineup!