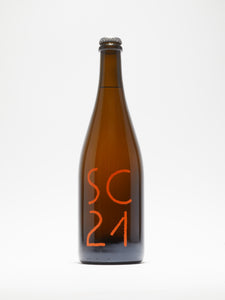 Sussex, UK 
Type, Sparkling
Grapes, Müller Thurgau, Ortega, Apples
Alc.  9%
Year,  2021
Size,  750ml 
Serving: Chilled (12–14°C)
About: A boozy trip down to visit Tillingham in Sussex lead to tasted through a load of stuff from amphora, tanks and various random bits and pieces Ben has been working on. Immediately after tasting a small batch of an apple ferment we knew we'd found what we were looking for, complimented perfectly by the classic champagne trio of Pinot Noir, Pinot Meunier + Chardonnay.
Organic Howgate Wonder 
apples from an orchard a few miles from the winery were handpicked, sorted and washed, before being crushed into the press. Then the grapes were loaded in whole bunches into the same press as the apples with the stalks helping to channel the juice.
The co-pressed juice was transferred to tank, fermented by wild yeast before being bottled. Similar in style to a col fondo prosecco, there is a second ferment in the bottle at low pressure. Non-disgorged, for that unmistakable body and hazy appearance. Pale, yellow gold, with a decent mousse and fine bubbles. Apple crumble on the nose with a crisp, clean palate. Bright acidity, great fruit and nicely rounded, very smashable indeed!